Thanks for all the input on what to watch first! It's been a busy week and I still haven't gotten to any of the films in the last post. (Although it's safe to say I'll stick with my instincts due to the overwhelming response for HDDCS!) Unfortunately, it'll be a while before I get to any of those selections.

This Sunday at the Belcourt Nashvillians will be treated to Bommarillu, a Tamil Telegu film by Bhaskar featuring our previously naked friend, Siddarth.

[Sid, I'll have you know it's all for you that I'm going to see this one. I skipped Stalin on your account! ;) So far, all of your recommendations have been on point. Right now you're 3 for 3! Feel the pressure?]

No worries. I'm sure the film will be interesting. Siddharth is an excellent actor even if he does look about 18 years old. (He's 27, married and father of 1.)


But it is at his time I must make a personal confession: I don't like mustaches. Seriously, if Hrithik Roshan himself committed to wearing a mustache from here to everafter, I would shed a few ceremonial tears then move on to
Kunal Kapoor
as Bollywood Boyfriend #1.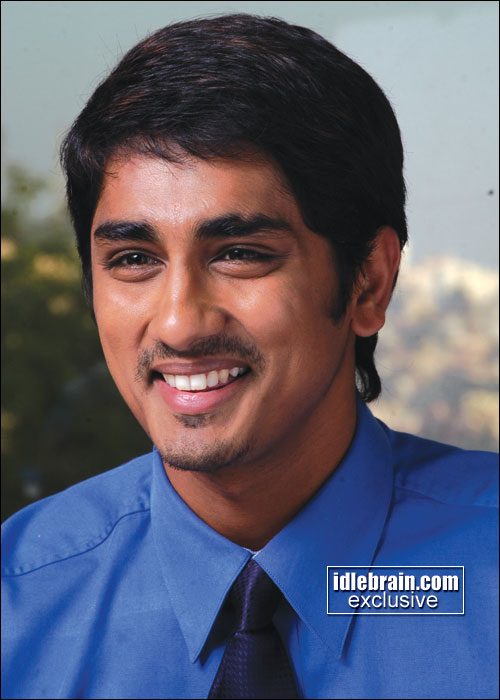 I like facial hair on men. It's very, well, masculine. It's just that my dad has ALWAYS had a mustache and a mustache
alone
. (I remember him once shaving it off when I was a kid and he looked like an alien.) I can't think romantic thoughts about someone who reminds me of my dad, or any other old guy for that matter!
I only bring it up because I know our boys from the South love their "
mooches
" (
meeshas?
) Anyways, I'm hoping there'll be more goatees and less reincarnations of my dad...
[For the record, Siddharth is absolved from 'old man' status by attempting to grow a French Beard though I get the impression his won't grow in properly.]